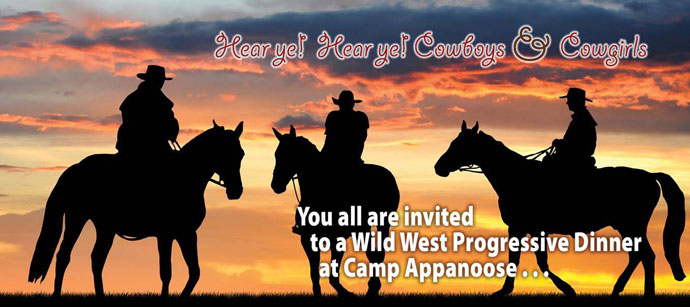 Hear ye! Hear ye! Cowboys & Cowgirls
You are all invited to a Wild West Progressive Dinner at Camp Appanoose…
The Annual Fall Roundup at Camp Appanoose.
Wild West Progressive Dinner Program and Auction
November 4, 2017 • 3:30-6 pm
(doors open at 3:00)
13380 430th St. • Plano, IA 52581
With a goal of raising funds to help support campers and the ministry of Camp Appanoose. Please come dressed in your best western apparel, bring new friends to help support a great ministry to kids, and look forward to an enjoyable afternoon!
RSVP – Online Registration
OR call 641-649-2491 OR by mailing this card to us by 11/01/17.
Prizes for: Best western dress
Special Drawing for: Persons bringing 2 or more (new) guests interested in supporting Camp Appanoose
Camp Appanoose
13380 430th St.
Plano, IA 52581