Cowboy Camp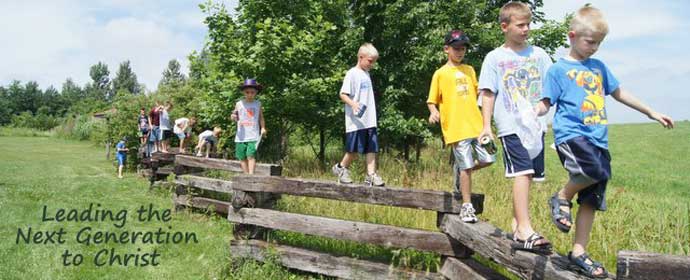 A Classic Camp for Second and Third Graders at Camp Appanoose!
For boys and girls who will be entering the second or third grades next fall, Cowboy Camp features a shorter week, introducing first-time campers to the exciting world of outdoor camp experiences.
Each camper belongs to a small group in which he or she will be an active participant. Individual groups are led by a trained counselor who will serve as a big brother/big sister mentor and will assist in the development of social skills, implement the spiritual lessons, and oversee the physical well being of each camper.
Counselors accompany their small groups throughout the day's activities and spend nights in Conestoga styled Covered Wagon Sleepers with the campers. Covered Wagon Sleepers give campers a fun 'old west' experience with many of the comforts of home (electric lights, a fan, and a camper friendly bunk).
Balanced meals are enjoyed in the camp dining hall.
Activities for Cowboy Camp may include:
Swimming
Arts & Crafts
Group Games
Paddleboats
Fishing
Nature Activity
Bible Stories
Songs
Hay Rack Rides
Assisted Horse Ride
Hot Dog Roast
Carpet Ball
Scavenger Hunt
Cowboy campers will follow a Bible Lesson plan which is designed to fit the learning capacity of second and third graders.
Campers will be challenged to new adventures in faith as the JOY principle is learned. The final evening will conclude with a hot dog roast for campers, parents and friends.