Meet Our Horses!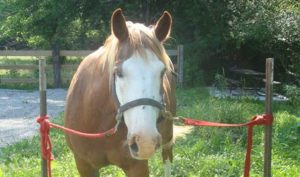 BONNIE, "Bonnie Blue Eyes", is one of our oldest horses.
Her interesting eyes – one blue and one 1/2 blue and 1/2 brown – give her a very special look.
Over the years, she has learned to be an amazing trail horse.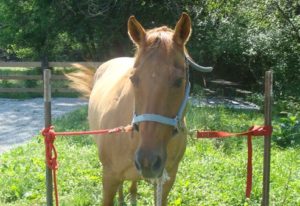 BUCK is a beautiful red dun color – very unusual.
He is willing to do most anything and has a sensitive side.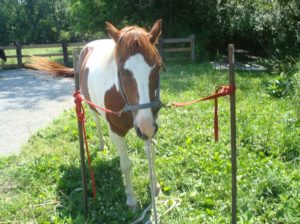 COMANCHE is our paint mix… there's some draft horse in there!
As a former competition game pony, he is very strong!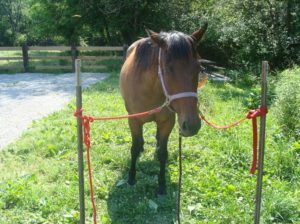 ROLO is an English trained bay mare all the way from Chicago.
After some adjustment to our country life here, she has become  a very dependable and flexible trail horse.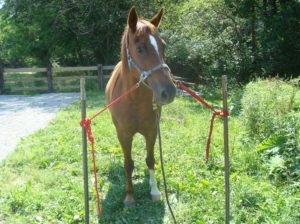 LADY.  We often refer to her as TOP LADY as she is the boss of the pasture here at Camp Appanoose!
Somewhere in her life before camp, she has been trained as a fox trotter and can still pull off a great fox trot gait!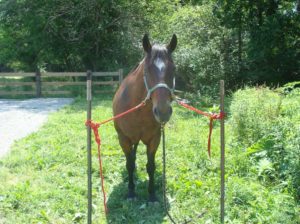 ROCKY is a beautiful bay gelding with a fun and interesting personality.
He comes from a cow herding background.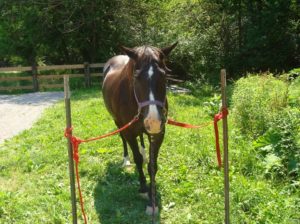 HAWKEYE is one of our older horses and enjoys a bareback rider.
Hawk's interesting quirk:
He loves to back up to a tree and scratch his backside!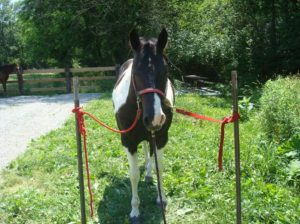 SPLASH is the boss MAN of the field, but still plays second fiddle to Lady, the Boss Lady.
He is newer to camp and still learning the ropes here.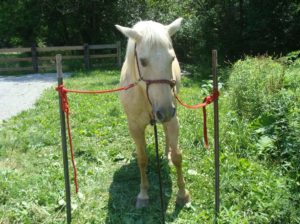 CODY is a sweetheart Palomino.
He is a bit shy and – with a confident rider aboard – does a great job on our trails.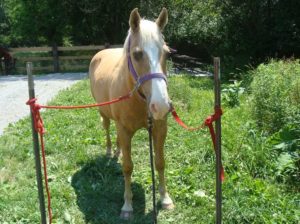 SUNNY, "Sunnyboy", is our 2nd shortest horse, but does not let that stop him.
He is one of our best horses!
Unique to Sunny – a brand on his flank!
DIDIT is our tallest horse… and used to be a racehorse!
Unfortunately for him, he was a tad slow… which makes him perfect for campers.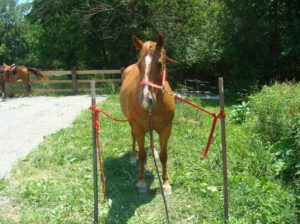 ROSIE is our sorrel broodmare.
She is still in the training stages and offers a great ride for a more experienced rider.
DANBY is a sweetheart of a horse and is very tuned in and responsive to his rider.
When you're calm, Danby is calm!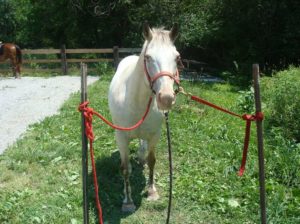 WOODY is our smallest – a POA.
With some Appaloosa in his blood, he has some interesting stripes on his legs.
Woody thinks everyone should love him, but sometimes gets picked on by other horses.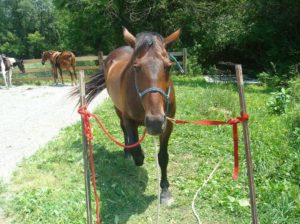 BEAU is our Tennessee Walker, very well broke and a pleasure to ride.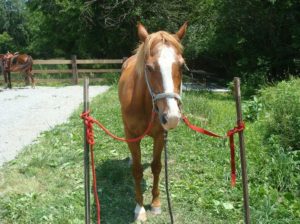 TJ, our fancy western pleasure horse, comes all the way from Canada!
If you're up for a 'Tigger ride', TJ would be your horse, as he can be very bouncy!
TJ is funny and loves to be at his spot at the hitching rail – even on days when he is not going to be saddled!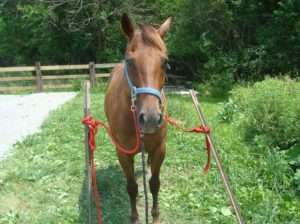 MISSY came to us in need of some TLC and is still in the process of training.
We think she will someday make a great trail horse!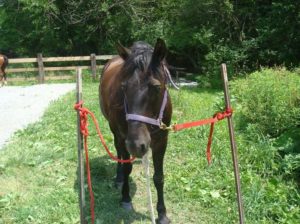 ROWDY is our youngest – but don't let that fool you.
He's very smart!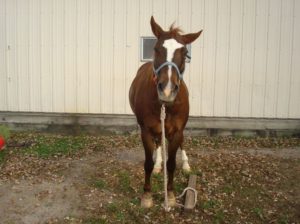 JAZZ belongs to our horse wrangler, Kaella Wilson.
She bought Jazz as a yearling and has developed him into a great all-around horse.
Jazz can say 'yes', lay down, sit up, roll over and take a bow!
He also has a special trick, Hi Ho Silver!!
You might be able to guess what that is – or come to camp and find out!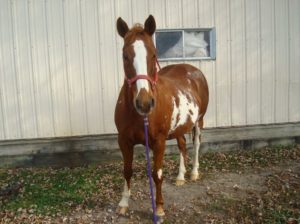 CASSIDY also belongs to our wrangler, Kaella.
If she needs to get somewhere in a hurry, Cassidy is the horse for the task – she's very fast and loves to run!