Sugar Creek Horse Camps


June 24-30 | Camp 1 | 4-6th Grades
July 8-14 | Camp 2 | 4-8th Grades
July 15-21 | Camp 3 | 7-12th Grades
Now – Jan 31 $365
Feb 1 – Mar 31 $385
After Mar 31 $400
Sugar Creek Ranch at Camp Appanoose offers opportunity to learn about horses in a beautiful and fun-filled setting where trail riding and horse related activities comprise the core of the program.
Camp Appanoose is a Christian camp which endeavors to use professional training in horsemanship to develop qualities of personal responsibility, initiative, life purpose and self discipline in young persons.
Riding instruction by skilled professionals will challenge each participant to improve their skills while enjoying a week devoted to horses.
'Hands on' experience in the following areas will prove to be both informative and enjoyable:
Horse Safety
Horse Care & Grooming
Equipment Care
Horse Health
Riding Basics and Safety
Negotiating Obstacles
Trail Riding
Trail Safety
Rider/Owner Responsibilities
Trail Riding is always a highlight at Camp Appanoose. In addition, camp participants will enjoy gaming activities in the camp's arena for the advanced Horse Camps.
Each camper is assigned to a small group led by a trained counselor who serves as a big brother or big sister. Excellent meals in the dining hall and interactive Bible study are important components of the program as well as our great Classic Camp Activities!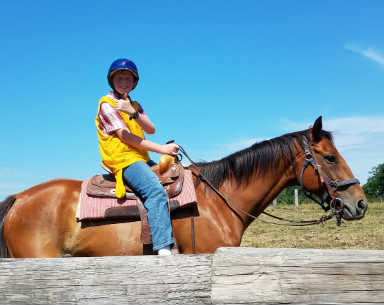 In addition to personal items, each rider will need jeans, hard-soled shoes or boots.