Who Are We?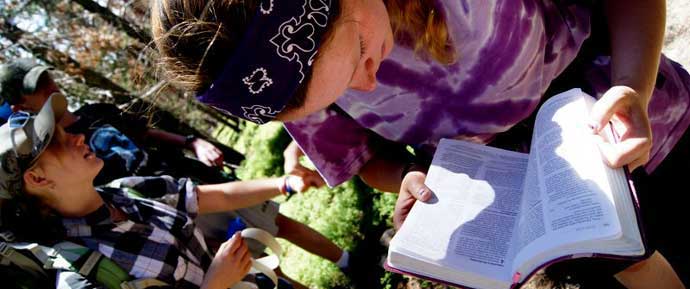 May We Introduce Ourselves?
Camp Appanoose Is . . .
. . .the cumulative expression of over four decades of youth ministry. Dedicated youth professionals and young adult mentors endeavor to: "Introduce Jesus Christ to a new generation and challenge youth for productive service in our world" (Mission Statement)
From its southern Iowa campus of more than thirty years, a variety of programs for youth ages 8-18, are designed each year to develop hope and vision. Participants are challenged to pursue their interests, develop their unique gifts, and serve others. Each program is educational and is integrated with Biblical teaching. For further information, see SPIRITUAL FOUNDATIONS , CAMP LEADERSHIP.
Camp Appanoose Is . . .
. . .adventure, often in the out of doors, for young persons which will broaden their horizons and challenge them to be their very best. Summer camps, early and late season programs, and the SURF club (Students United In Real Faith) are all featured in the PROGRAM INFORMATION section of this website. For further information, see SAMPLE CAMPER DAYS , TIPI CONCEPT.
Camp Appanoose Is . . .
At home on its forty acre campus, in the scenic hills of southern Iowa, close to Iowa's Ocean, Lake Rathbun. Adjacent to 11,000 acres of water and over twenty thousand acres of public lands, the camp is positioned to offer access to many opportunities.
A herd of horses is maintained for equestrian activities; as well as canoes, and other recreational equipment. The camp is a nonprofit corporation in Iowa made up of committed Christians from a number of backgrounds.
Operating from a premise which recognizes that issues which concern society have spiritual roots, Camp Appanoose addresses those issues through community based efforts of churches, families and private sector initiatives. Camp Appanoose, Inc. is a 501(c) 3 corporation. All gifts are tax deductible.
Membership in the Christian Camps and Conference Association (CCCA) is maintained professionally linking the ministry to around a thousand U.S. camps and many more internationally.
You may obtain additional information about the work of Camp Appanoose, Inc. by contacting us at:
Camp Appanoose, Inc.
13380 430th St
Plano, Iowa 52581
Phone: (641) 649-2491
E-mail: cabar@campappanoose.org